Archive: October, 2010
Sunday, October 31st, 2010
I know it is crazy late but I could not resist! This picture made my night!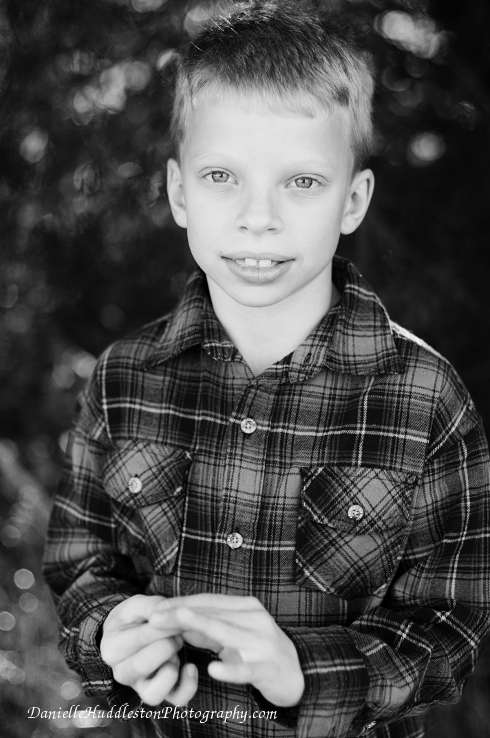 Thursday, October 28th, 2010
My husband got my birthday present in the mail! My birthday is not until November 11th(eleven, eleven it's easy to remember), so this made me a little worried he would decide to not let me know what it was or have at until then!
Patience is not one of my strengths.
I was at the computer in the dining room and he decided to open the package in our living room(just a few feet away). "Don't look" he said.
Is he kidding?
I am good so I did not look.
Then I start hearing this, "WOW, it is a lot heavier then I thought." and "I wonder how this works" I started yelling that I was going to look if he did not cut it out!
Then he said, "I guess I could give it to you now but then you would not have anything to open for your birthday."
"That is okay, we are going hiking for my birthday." I was trying to sound all calm but I really wanted to have my gift NOW!
Did I mention I am horrible at waiting(pregnancy was not fun for me, 9months of waiting!)?
So finally he brings over a card reader and sets it in front of me. "Here you go."
Then then a little bit later he asks for my camera, still not letting me see what else he got.
Then he said, "smile"! While taking a picture of me with my new lens!!!
I was jumping up and down and squealing!
What can I say? I like camera equipment!
The only problem was that it was nap time and all my subjects were asleep.
It was the first time I was happy when one of them woke up early!
It had nothing to do with the fact I kept going in their room.
I got to have some fun while hiking this morning!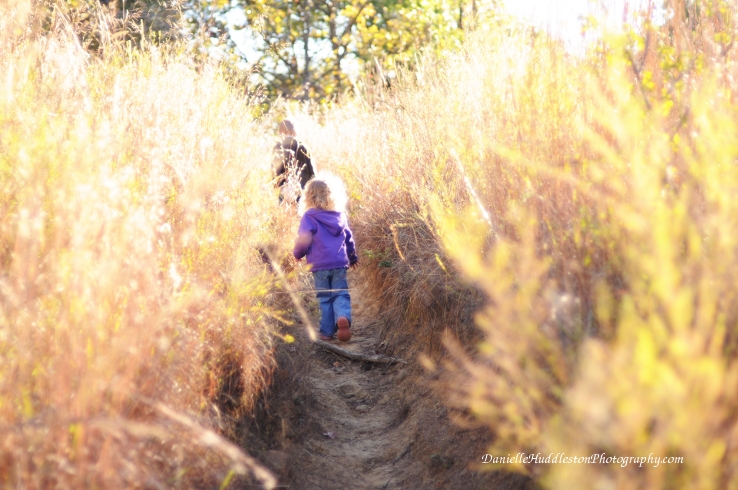 For all the camera buff's out there. It is a 50mm 1.4!
I am in love.
The end.
Tuesday, October 26th, 2010
I made the mistake of looking at a bunch of really crafty websites today…
I kept thinking, why don't I sew my own shirts? It looks pretty easy.
I easily forget how much my mother helped me on those sewing projects when I was a kid. I also tend to forget there were a lot of tears involved and they were not all mine.
I decided to take baby steps and finish(by finish I mean start) a project that I have been wanting to do for a couple weeks now. Piggybanks for the boys.
We recently went on a trip to Minnisota, then we turned around for another one. It's complicated.
This left us with two empty Slim Jim containers.
Doesn't everyone eat Slim Jim's on long trips?
Like to the grocery store.
To buy more Slim Jim's.
Anyway.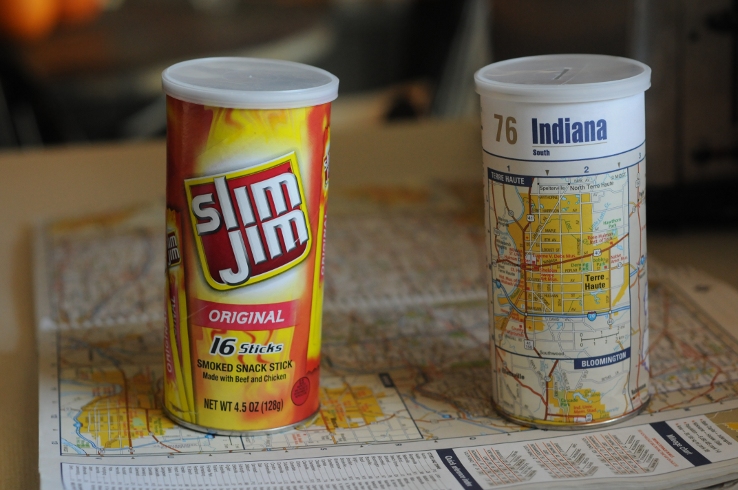 Here is one finished!
I used maps to decorate because their room is supposed to be travel themed.
I have never really finished it.
But now they have the piggy banks!
I let my oldest help with the gluing, my youngest would have helped if he had not chosen to throw a tricycle at his brother.
They are getting to big when they can start throwing bikes at each other.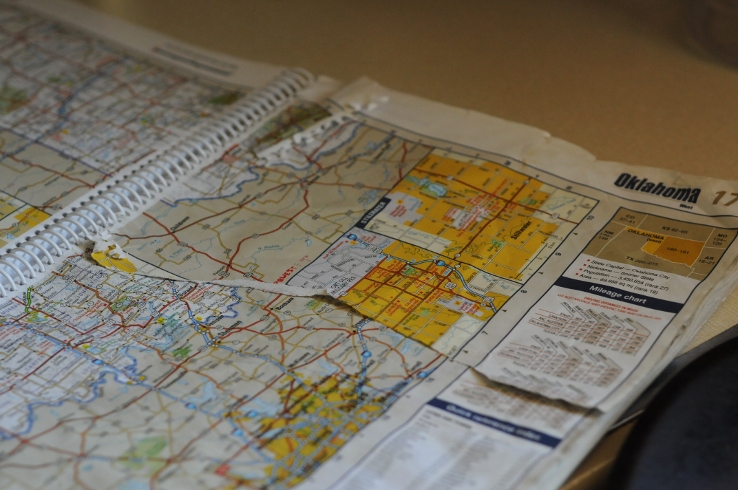 This is our handy Atlas that we have used for years. I told my husband that if we moved to a different state it would be perfect.
Oklahoma is the only map that is completely torn out.
Since we live in Oklahoma it makes navigating with this Atlas a little difficult.
But it makes this a perfect Atlas for crafting!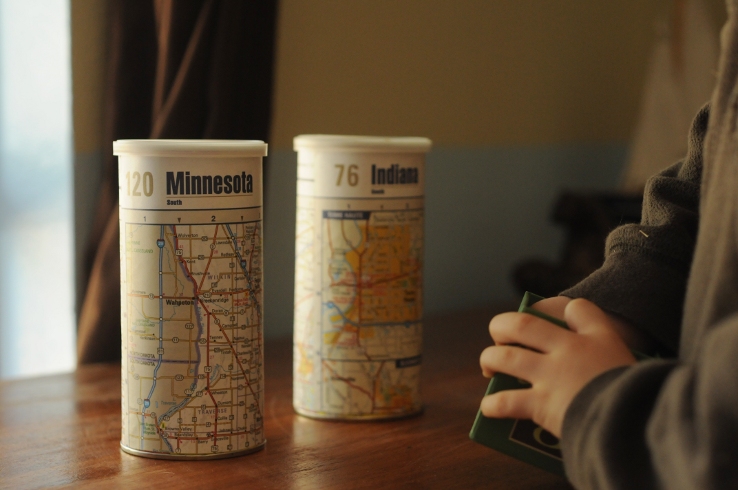 The two finished map banks!
I am shocked they turned out so well!
Especially since I used them for target practice with my new slingshot.
This victory might have gone to my head a little bit.
I tried to sew something right after I finished these.
It was not pretty.
Maybe I will tell you about it sometime.